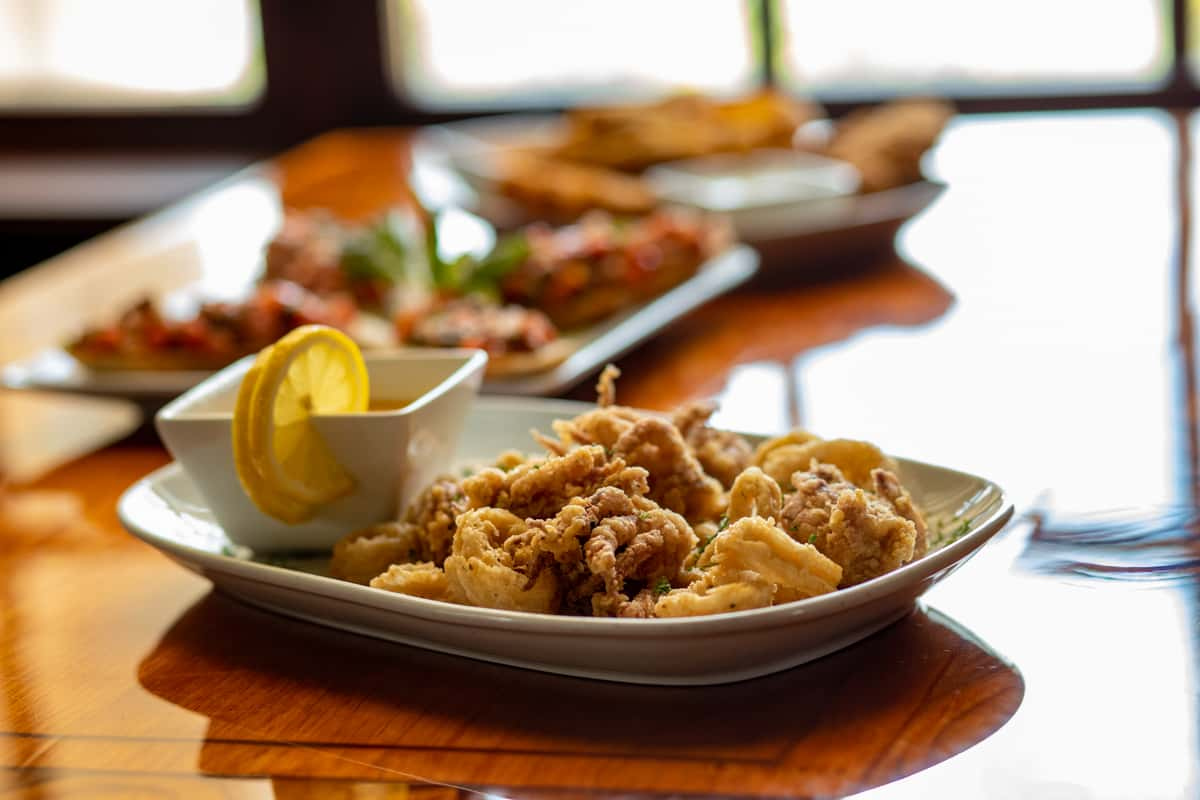 Rodello's
Italian Restaurant
Welcome
We've made some changes to better serve you.
Entrance
We have listened to our customers who wanted a separate entrance from the bar/lounge and also more accessible handicapped parking. The new entrance is on the same side of the building just one door down. The handicapped parking will now be the 1st 2 slots in the parking lot.

Our bar/lounge will add a few dining tables so if you choose to have dinner while watching whatever sports are on the TV you can!
Gluten Free Options
We have a gluten free 10" pizza with any of your favorite toppings or one of our specialty pizzas.
We also have gluten free risotto and penne pasta that you can substitute with any meal.
We now have whole wheat pasta...just ask your server for it.
Menu
We are adding several new dinners to our menu and will no longer have daily feature dishes.

Our customers have told us they want their favorite features available all the time…we listened and we love them too so we have chosen the most popular dishes and you can order them any time you want from our separate chef's menu.
Leave a Review
"This is my favorite dish at Rodellos. It is a divine dish with just the right amount of veggies to compliment the crusted Lamb. and enjoy it whenever I am at this wonderful Italian Restaurant. Judy"
"We had a birthday celebration with six people. I had the spaghetti and meatballs, which came with 2 huge meatballs and a very generous side of spaghetti. It was wonderful and I had leftovers for another dinner. Most of us has the same except for the Pasta Shells and eggplant parm. Everyone enjoyed their meal. At the end of dinner we all split two pieces of "to die for" cakes: The serendipity cake (chocolate and chocolate mouse) and the Monsoon red velvet with cheesecake filling. Service was wonderful and all the food came out at the same time. It is so nice to have an exceptional restaurant like Rodellos nearby. If you haven't been there - GO!"
"Ordered thru door dash it was the best pizza we have had in a long time"
"This Is Amazing. Not like any Red Velvet Cake you have ever had before. There must be a secret layer of awesomeness added. I highly recommend it."
"Rodellos sasuage and green peppers with spaghetti is delicious. Their garlic knots are large and very good. My husbands favorite is the lasagna."
"Excellent. Flavorful with the crunch of pastassio encrustations. Highly recommended"
"This is my favorite dish at Rodellos. It is a divine dish with just the right amount of veggies to compliment the crusted Lamb. and enjoy it whenever I am at this wonderful Italian Restaurant. Judy"
"We had a birthday celebration with six people. I had the spaghetti and meatballs, which came with 2 huge meatballs and a very generous side of spaghetti. It was wonderful and I had leftovers for another dinner. Most of us has the same except for the Pasta Shells and eggplant parm. Everyone enjoyed their meal. At the end of dinner we all split two pieces of "to die for" cakes: The serendipity cake (chocolate and chocolate mouse) and the Monsoon red velvet with cheesecake filling. Service was wonderful and all the food came out at the same time. It is so nice to have an exceptional restaurant like Rodellos nearby. If you haven't been there - GO!"
"Ordered thru door dash it was the best pizza we have had in a long time"
"This Is Amazing. Not like any Red Velvet Cake you have ever had before. There must be a secret layer of awesomeness added. I highly recommend it."
"Rodellos sasuage and green peppers with spaghetti is delicious. Their garlic knots are large and very good. My husbands favorite is the lasagna."
"Excellent. Flavorful with the crunch of pastassio encrustations. Highly recommended"
"This is my favorite dish at Rodellos. It is a divine dish with just the right amount of veggies to compliment the crusted Lamb. and enjoy it whenever I am at this wonderful Italian Restaurant. Judy"