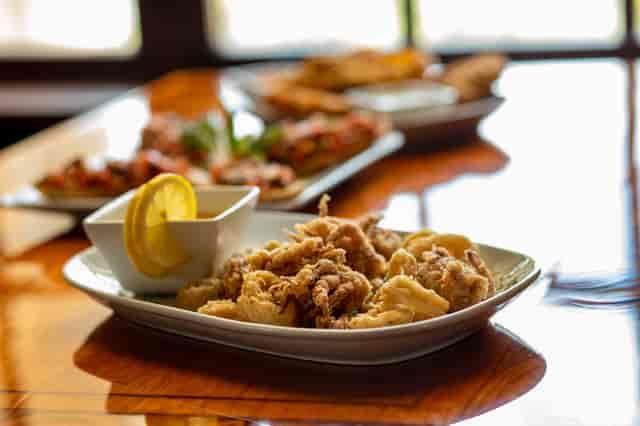 Rodello's
Italian Restaurant
Welcome
We've made some changes to better serve you.
Entrance
We have listened to our customers who wanted a separate entrance from the bar/lounge and also more accessible handicapped parking. The new entrance is on the same side of the building just one door down. The handicapped parking will now be the 1st 2 slots in the parking lot.

Our bar/lounge will add a few dining tables so if you choose to have dinner while watching whatever sports are on the TV you can!
Lunch
We are adding an unlimited soup and salad option to our lunch menu.

We are also now introducing an "early diners" menu, which will offer smaller meals for a lower price.
Menu
We are adding several new dinners to our menu and will no longer have daily feature dishes.

Our customers have told us they want their favorite features available all the time…we listened and we love them too so we have chosen the most popular dishes and you can order them any time you want from our separate chef's menu.
Leave a Review
"We loved the chicken parmigiana! It was delious. The salad was very fresh and good. My husband tried the stuffed mushrooms and said they were some of the best he ever had! Servers are nice and friendly. We will definitely go back."
"This is my favorite dish at Rodello's. The filet mignon is always cooked to perfection. The spinach and sun-dried tomatoes with the balsamic vinegar adds just a touch of sweetness that truly compliments the pasta and filet. There is enough of this dish to eat it there and bring half home for another meal. Yum!!!"
"Although we've ordered takeout from Rodellos, this was the first time eating inside the restaurant. The chicken piccata was excellent! Chicken was cooked to perfection and the spaghetti was nicely seasoned and mixed with lovely pieces of fresh vegetables. I loved the caper berries that were in it! The portion was very generous. My meal was served with salad (I chose Caesar salad) and warm fresh bread with flavored dipping oil. It was a delicious and enjoyable meal. Everyone at our table enjoyed different entrees and everyone was equally pleased."
"I loved the atmosphere, the service was excellent, the stuffed mushrooms were the best ever, and the Eggplant Parmigiana with spaghetti was delicious. I will be looking forward to my next visit."
"Amazing! My daughter and I dropped in during a road trip. This place is a GEM! Talk about ambience and character... I half expected my Italian ancestors to walk out of the kitchen to tell me that I didn't order enough food. Absolutely superb in every way. Tastes just like Grandma Greco used to make!"
"We had take out last week for the first time. My hubby had Veal Cutlet Parmesan over spaghetti and I had Eggplant Rollatini over spaghetti. Both were absolutely delish with very large portions Will be re-ordering very soon!"
"We loved the chicken parmigiana! It was delious. The salad was very fresh and good. My husband tried the stuffed mushrooms and said they were some of the best he ever had! Servers are nice and friendly. We will definitely go back."
"This is my favorite dish at Rodello's. The filet mignon is always cooked to perfection. The spinach and sun-dried tomatoes with the balsamic vinegar adds just a touch of sweetness that truly compliments the pasta and filet. There is enough of this dish to eat it there and bring half home for another meal. Yum!!!"
"Although we've ordered takeout from Rodellos, this was the first time eating inside the restaurant. The chicken piccata was excellent! Chicken was cooked to perfection and the spaghetti was nicely seasoned and mixed with lovely pieces of fresh vegetables. I loved the caper berries that were in it! The portion was very generous. My meal was served with salad (I chose Caesar salad) and warm fresh bread with flavored dipping oil. It was a delicious and enjoyable meal. Everyone at our table enjoyed different entrees and everyone was equally pleased."
"I loved the atmosphere, the service was excellent, the stuffed mushrooms were the best ever, and the Eggplant Parmigiana with spaghetti was delicious. I will be looking forward to my next visit."
"Amazing! My daughter and I dropped in during a road trip. This place is a GEM! Talk about ambience and character... I half expected my Italian ancestors to walk out of the kitchen to tell me that I didn't order enough food. Absolutely superb in every way. Tastes just like Grandma Greco used to make!"
"We had take out last week for the first time. My hubby had Veal Cutlet Parmesan over spaghetti and I had Eggplant Rollatini over spaghetti. Both were absolutely delish with very large portions Will be re-ordering very soon!"
"We loved the chicken parmigiana! It was delious. The salad was very fresh and good. My husband tried the stuffed mushrooms and said they were some of the best he ever had! Servers are nice and friendly. We will definitely go back."